Chukchi Husky
From DYOS Wiki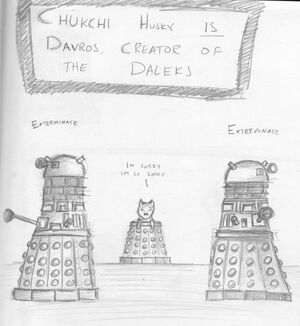 "So basically you're saying you can create great visual art while half-blind ie. you're basically the Beethoven of drawing."
— taillesskangaru
Chukchi Husky is a CFC forumer who hates himself but is loved by everybody else; in one memorable moment, his birthday thread reached 33 pages.[1] He is a renowned contributor to OT/A&E drawing threads, yet for some reason doesn't think he's a good artist. Chukchi Husky's forum avatars usually depict a grey wolf (Canis lupus).
Etymology
Chukchi Husky derives from the combination of Chukchi (referring to or coming from Chukotka, a peninsula in the northeastern extremity of Asia), and Husky (a breed of domestic dog, Canis lupus familiaris). This may be a specific reference to the Siberian Husky, which is also known as "Chukcha".
DYOS
Although Chukchi Husky has voiced tentative interest in joining DRAW Your Own Story, he has yet to contribute; despite this, he was featured in cartoons by taillesskangaru, in one case being besieged in a castle. He also submitted über l33t sketches of contributor-characters to the Consulate.[2]
Chukchi Husky recently resurfaced as a contributor to Tolni's Write Your Own Story reboot.
Gallery