Expletive deleted
From DYOS Wiki
Not to be confused with [DATA EXPUNGED]
"Expletive deleted" is a broad descriptor for censoring language unsuitable for certain audiences. Language censorship is a necessary component of DRAW Your Own Story to stay in line with the Civilization Fanatics' Center forum rules.
Comics commonly censor foul language by substituting the words with typographic symbols ("symbol swearing", eg. $#@*&%) or dashes. Visual obscenities are blurred or pixelated beyond clarity. Offending content may also be literally whitewashed, or in self-referential cases replaced by a moderator action tag. In audio, censorship is achieved by overlaying a high-frequency "beep" across the offending passage, or muting it completely.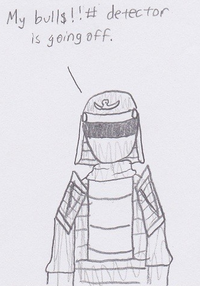 Running gag
choxorn has lampooned the forum autocensor on a couple of occasions. When he makes a swear word, a blank is placed there instead and/or Methos pops in with a moderator action sign covering the word in question. When he went on a particularly nasty rant, he overloaded the autocensor and his entire statement was redacted, prompting him to question why "Cake" was deemed objectionable.[1]
External link