Flakpanzer Gepard
From DYOS Wiki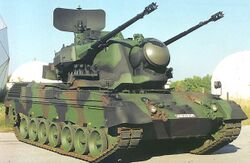 The Flugabwehrkanonenpanzer Gepard ("anti-aircraft cannon tank Cheetah") is an autonomous, all-weather-capable German self-propelled anti-aircraft gun (SPAAG). It was developed in the 1960s and fielded in the 1970s, and has been upgraded several times with the latest electronics. It constitutes a cornerstone of the air defence of the German Army (Bundeswehr) and a number of other NATO countries.
It is based on the Leopard 1 tank hull with a large fully rotating turret carrying the armament—a pair of 35 mm Oerlikon KDA autocannons and the two radar dishes—a general search radar at the rear of the turret and the tracking radar, and a laser rangefinder, at the front between the guns. Each gun has a firing rate of 550 rounds/min.
The guns are 90 calibres (3.15 m) long, with a muzzle velocity of 1,440 m/s (FAPDS—Frangible Armour Piercing Discarding Sabot rounds), giving an effective range of 5,500 m. The KDA autocannon can take two different ammunition types, and the usual loading is a mix of 320 AA and 20 AP rounds per gun. Combined rate of fire is 1,100 rounds/min.
The electrically driven turret is powered by a 40 kW generator driven by a 4-cylinder, 3.8 litre Mercedes-Benz OM 314 multi-fuel engine.
Operators
Comparable systems