John Baird
From DYOS Wiki
The Honourable




John Baird




PC

Baird in a good mood

Minister of Foreign Antagonism
In office
May 18, 2011 – February 3, 2015

Prime Minister

Stephen Harper

Preceded by

Lawrence Cannon

Succeeded by

Rob Nicholson
Leader of the Government in Bullying the House
In office
August 6, 2010 – May 18, 2011

Prime Minister

Stephen Harper

Preceded by

Jay Hill

Succeeded by

Peter Van Loan
Minister of the So-Called Environment
In office
November 7, 2010 – January 4, 2011

Prime Minister

Stephen Harper

Preceded by

Jim apPrentice

Succeeded by

Peter Kent
In office
January 4, 2007 – October 30, 2008

Prime Minister

Stephen Harper

Preceded by

Rona "Lovely Hair" Ambrose

Succeeded by

Jim apPrentice
Minister of Transport, Infrastructure and Communities
In office
October 30, 2008 – August 6, 2010

Prime Minister

Stephen Harper

Preceded by

Lawrence Cannon

Succeeded by

Chuck Strahl
President of the Treasury Board
In office
February 6, 2006 – January 4, 2007

Prime Minister

Stephen Harper

Preceded by

Reg Alcock

Succeeded by

Vic Toews
Member of the Canadian Parliament
for Ottawa West—Nepean
In office
January 23, 2006 – March 16, 2015

Preceded by

Marlene Catterall

Succeeded by

TBD
Member of Provincial Parliament
for Nepean—Carleton
In office
June 3, 1999 – November 30, 2005

Preceded by

Constituency established

Succeeded by

Lisa MacLeod
Member of Provincial Parliament
for Nepean
In office
June 8, 1995 – June 3, 1999

Preceded by

Hans Daigeler

Succeeded by

Constituency abolished
Personal details
Born

John Russell Baird


May 26, 1969
Nepean, Canada
Political party
Progressive Conservative (1995–2003)
Conservative (2003–present)
Progressive Conservative (Provincial)
Alma mater
Queen's University
The "Honourable" John "Motormouth" Baird, PC, MP was a Canadian politician that routinely served under Stephen Harper's cabinet as de facto head of the SA. Prior to retirement in 2015, Baird was Minister of Foreign Affairs (because everyone knows the portfolio for not pissing off other nations is best handled by a pit bull), in which he was instrumental in ending decades of Canadian political mediative tradition by kissing ass to Israel at every opportunity. Baird's previous posts include Minister of Transportation AKA Striking Ottawa Bus Drivers, Minister of Yelling at the Liberals while Waving his Hand and Having the Speech Featured on the Rick Mercer Report, and Minister of Environmental Policies Nobody but the Conservatives Approve Of, until the hot air expelled from his mouth became so voluminous that the Tories risked having to acknowledge global warming.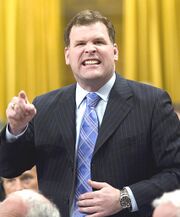 During the Invasion of Canada, Baird and most of the other PC thugs holed up in Centre Block. The Union army was unable to approach Parliament Hill thanks to Baird's combat operandi, "Hurricane-Force Wind" (best summed up as an inversion of "Belly of the Whale"). In an alternate strategy, Spetsnaz commando Rudolph Krieger was inserted via the Peace Tower, and disabled the loudmouth minister with the strategic application of duct tape.[1][2]
Resignation
Not content to merely wreck Canadian diplomacy, Baird resigned from Cabinet in Feburary 2015 to join Grand Wizard Kevin Rudd and the Illuminati in wrecking foreign relations worldwide.[3]
See also